So I guess first things first… we really suck at updating our blog.  Apparently going climbing is a lot more interesting than sitting around the computer and wrestling with WordPress.  But just because we haven't­ made an update in almost 4 months and we are not even close to actually finishing our website, doesn't mean we haven't been busy.
2012 for C.E.U. so far has been all about one thing… strengthening our partnership with The Rocinha Surf School.  After struggling with community outreach in Rocinha for much of 2011 it became clear to us that we needed to work together with strong local partners if we were ever going to get groups of kids out on the rock.
Apparently my own faith in our abilities to safely teach rock climbing to the young people Rocinha was not automatically shared by the parents of these youth.  More often than not people's idea of climbing was that it is some crazy extreme sport that involved free soloing overhanging walls and eventually falling to your death because the wind blew too hard.  It didn't matter how much we worked to convince people that the daily activity of riding a motorcycle in Rocinha is a million times more dangerous than climbing, we kept receiving last minute rejections right before our scheduled outings that inevitably could always could be traced back to some reluctant mom or grandmother.
So it became obvious that we needed the trust and rapport of another project that had already been active in Rocinha for many years and in a rare stroke of genius, Asa insisted that we sit down with the coordinators of the Rocinha Surf School, Bocão and Camila. It turned out to be one of our best moves yet as we immediately kicked it off and started to work together.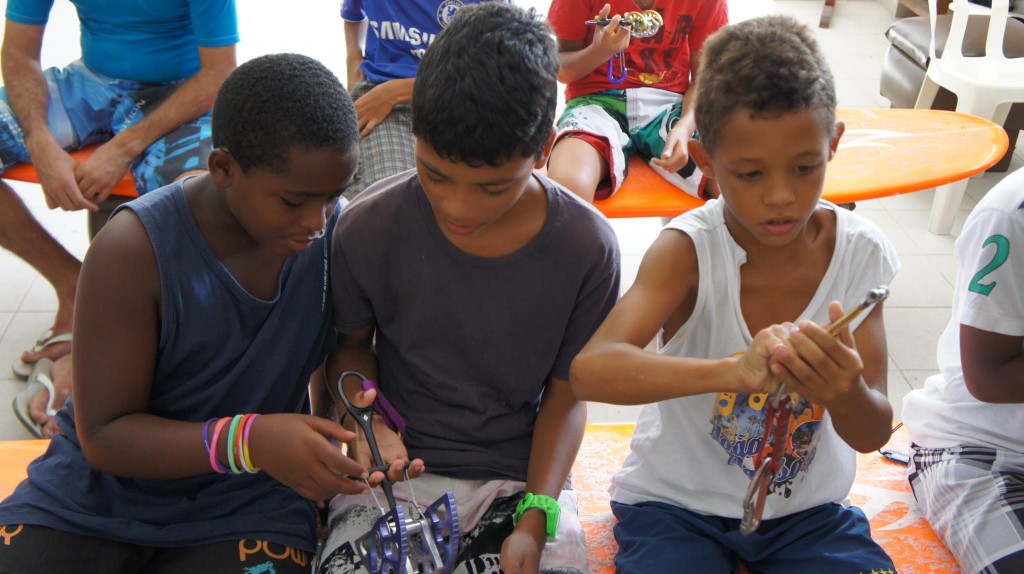 We arranged an initial lecture with their group where we explained what climbing actually was and introduced all the different equipment used.  Next we started organizing outings with the group and have since then climbed together on several occasions. We have done hikes and top rope sessions on Pão de Açúcar, Morro da Urca, Babilônia  and Pedra da Gávea and even organized an outing to pick up trash at a local crag.  The group we have been working with has shown a ton of interest and even the students that have a fear of heights kept coming back for more.
We would love to take all the credit for the students immediate dedication to climbing, but without a doubt most of the credit should go to the Rocinha Surf School. This is an incredible program that is being run by two of the most dedicated and sincere people I have meet in Rocinha so far.  They have been giving surf classes to youth from Rocinha for years and have put together an awesome group of students.  They have also worked hard to build partnerships with other organizations to insure their students have access to an array of activities like rock climbing, english and music lessons.  If there is any project C.E.U. should model itself after it is this one.  We are lucky to have built such a strong partnership with them and we look forward to being able to support each other well into the future.
Certainly when we finally manage to build a wall in the sports complex the complicated process of community out reach will become easier, but until then we plan to continue using this same model to grow our network in Rocinha and in the other communities we are looking to start engaging. There are so many inspiring programs being run by dedicated community leaders and it is clear that the best attitude C.E.U. can adopt is to partner with and support these programs.
We are currently reaching out to similar partners in the communities of Santa Marta and Chapéu Mangueira and we hope to implement activates in these communities before the end of 2012.  Soon we will also be putting together a selection of advanced students to participate in our first complete "Basic Rock Climbing Certification Course" and we are sure several of those students will come direclty from the Rocinha Surf School.  More news on that is soon to come!